Multi-box-type Oxygen Generating Module
Product Detail
Product Tags
MULTI-BOX-TYPE OXYGEN GENERATING MODULE
The module is composed of three boxes for oxygen generation,compression and supply,which used high-density polyethylene as box materials,box instrumentation structural form,PSA technique for oxygen generation,oil-free piston-type oxygen compression technique and quick-coupling oxygen supply technique.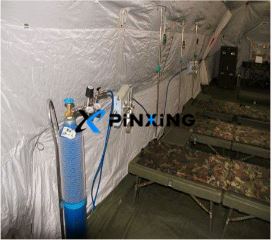 The oxygen module can be used in combination with the field tent hospital system and other medical treatment systems.And it also can be used independently.
The module is convenient for field handing,rapid delivery,flexible deployment,field collection and real-time operation.It realizes the rapid preparation of medical oxygen in the rescue site,effectively improving the field tent hospital system in natural disasters,emergency medical rescue self-support ability.
Specifications and Functions
Overall plan
The box structure adopts the integrated design of box instrument.According to the operation requirements,oxygen production box and oxygen pressure box are designed with operating surface,air inlet,hot orifice,etc.For the convenience of manufacturing,blow molding processing technology is adopted.
PSA oxygen generation
This oxygen production box adopts variable frequency constant pressure and altitude  adaptive PSA oxygen generation technology.
Oxygen compression module
This pressure oxygen tank adopts two stage oxygen compression technology of reciprocating piston with complete oil-free lubrication.
Oxygen supply module

The inner wall of the box of oxygen supply module is lined with antivibration sponge  material,which can not only protect the equipment from the collision of transport vibration and deformation,but also facilitate the quich removal and packing during operation.
Package specifications
PSA tank size: 1200*800*1000mm;177KG
Pressure oxygen module tank size:1200*800*1000mm,NW:166KG
Oxygen supply tank size:800*600*600mm,NW:60.5KG
Package material: High density Polyethylene
Main performance indicators:
Oxygen production:1.3m³/h
Oxygen concentration:92.7%
Compress oxygen rate:1.1 m³/h
Max oxygenation pressure:12MPa
PINXING, established in 1996, is one of the leading and experienced  folding shadowless operating lamp led or halogen lamp with backup  battery on casters manufacturers and suppliers in China. We provide  customers with quality, durable and functional equipment at competitive  price. And customized service is also offered.
---
Previous:
Mobile Tent-form Field Hospital Solution
---
Write your message here and send it to us